This week's guest speaker was new member Lyn Jefferis. As a new member of our club and also new to town we were all keen to learn a little bit more about Lyn and she had some interesting stories to tell.
Lyn was born in Wollongong, living there until recently relocating to Temora. She has been married to Jack (also a new member) for 44 years and they have two son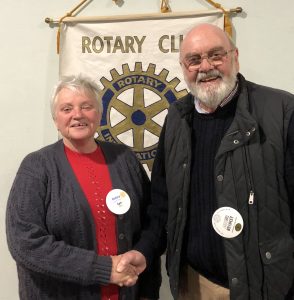 s – Paul (40) and Glen (38). Lyn lamented that over her lifetime she has seen big changes in Wollongong as it has morphed from a beautiful safe town into an extended suburb of Sydney with the associated crime. She remembers the beginning of this change being the Wanda Beach murders in the 60's.
Lyn's first job was as a Christmas casual at David Jones and they placed her in the china and glassware department. Her family thought it hilarious as she considered herself to be very clumsy and they used to visit her to see what she had broken that day. When she finished school, Lyn completed Business Studies and began employment with Armaguard where one of her duties was to look after the pay packets for BHP – real cash in envelopes. We were entertained with stories of cash falling off backs of trucks – quite literally!
After a personal experience with a struggling neighbour and her children, Lyn was inspired to go back to school and study Social Work and Welfare. She wanted to help children and do what she could to improve the situation for many who had no voice – but the reality of the working environment soon took its toll, and eventually Lyn had to walk away from this work. Lyn lamented that she can only imagine that for social workers the situation must be so much more difficult now that the drug ICE is having an impact on families.
Lyn worked at the 2000 Sydney Olympics as a Security Guard at Olympic Park and says it was the most rewarding and interesting experience of her life. She volunteered for every position possible and worked around all parts of the venue. She got to meet celebrities and sports people and imparted a few impressions of those encounters.
Lyn is happy to be able to look back on a wonderful life as a wife and mother and is really happy to be able to move to this wonderful town. Everyone has been so helpful and friendly. Having always been community minded, Lyn believes that to help in community and do community things is helpful to self.
We are glad to have you with us Lyn.