Lyn Jefferis introduced our Guest Speaker Keith Anderson
Keith worked at the ANZ Bank for 27 years and a local accountant for 20 years. He now help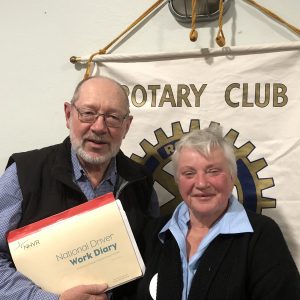 s his wife in a local dress shop, Sadie Michaels, while still maintaining a few private clients.
Along the way, Keith obtained his Heavy Vehicle Licence mainly because he could!
Three weeks ago, while visiting a client at Hillston who is a cotton and cattle farmera conversation took an interesting turn when the farmer mentioned that he had just purchased a new tri-axle trailer near Toowoomba and needed it to be picked up. Learning that Keith could drive a truck, he asked if he had time to go and get it for him. Excitedly, Keith checked his schedule and hit the road to Pittsworth Qld to collect the trailer.
Keith entertained us with the story of his journey, showed us how a truckies log book works, informed us of the driving time and fatigue requirements and educated us on how to select a safe overnight parking spot.
Thank you Keith!