This week's guest speaker was our President, Rob Oliver who has recently returned from a trip with his wife Helen to Alaska and Canada. Tonight, he wanted to tell us a little about just one part of his trip which was a visit to the Hutterite community in Canada.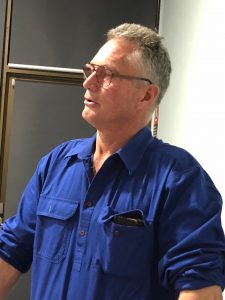 The Hutterite's originally came from Austria to Russia last century but were persecuted for their religious beliefs so emigrated to the USA and ultimately settled in Canada. They speak lower German, follow strict religious beliefs and dress codes.
Upon arriving at their farm, Rob couldn't believe how much new farm machinery they had – the machinery yard covered 7 acres and was full of new John Deere equipment including headers, spray rigs, tractors – everything you could imagine.
There are no more than 125 people in the community – as the population grows, members break away and settle a new community. They share communal kitchens and dining rooms, but each family has their own home even through no house has a kitchen. All homes look the same and it is a cashless society.
Rob was struck with the fact that they are really just like us – but their life does adhere to some strict guidelines. For example, the role of women is cooking, housework and gardening while men make furniture and work the land. When girls turn 15 they receive a cupboard and when they marry they rec
eive a bed. When women marry, they leave their family and community to join their new husband's community.
The Hutterites do all their own mechanical work, grow food in gardens, operate a dairy, raise chickens and sell fruit and vegetables at the markets. They accept technology such as telephones and the internet and were very interested to hear about farming practices in Australia. They grow wheat, canola and peas and pay tax.